---
Greetings!
We absolutely LOVE what we do and trust that you end up loving our business too! We invite you to explore our website.

Vanessa, Fay & David – Owners and Operators of NBKC
Initially
Deciding where to leave your loved pet can be a pretty tough decision. Without a doubt, we know and understand this!
That is why we provide inspections of our picturesque facility so that prospective customers can view our grounds & grill our friendly kennel & cattery staff.
Our 'purple people' (aka kennel, or cattery staff), can welcome you at 11 am on any day.
Please call for an appointment on 0458962000.
---
Ultimately
For us, it is all about the tail.
A dog's tail can tell many tales (excuse the pun), but the one we aim for is the helicopter wag. This particular swish tells us that the owner of the tail is happy, content and very pleased with life in general. In turn, this pleases the NBKC staff immensely.
It is important to understand (before requesting a booking with us) that we operate our kennel very differently from most.
Cats' tails are much harder to gauge. We aim for the 'merry swoosh' and happy face rub. However, many will only love on their strict terms and can, amusingly, hold grudges.
Suffice to say that they are well-fed, loved (if they allow) and cared for during their holiday with us.
---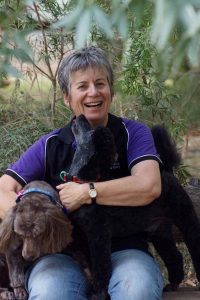 Welcome to Our Heart…
To truly understand the heart of our business – we encourage you to read our history – at its core, you will find the founder, Madeleine Keil.
The story starts like this: "Madeleine scowled, 'this is simply not good enough' she thought…"