We adhere to the Code of Practice for Boarding Kennels in Victoria.
Mix-n-Match, NBKC Style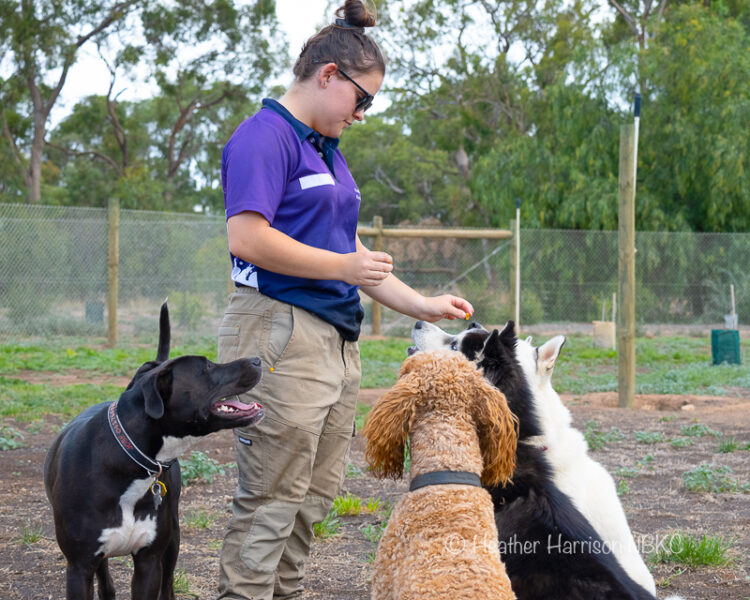 Nathalia Boarding Kennels and Cattery function very differently from most other kennels, in fact, we are one of the first boarding establishments in Australia to operate an 'open plan socialisation' style kennel. Mixing dogs is our forte.
'Open plan socialisation' means that we mix our dogs to play during the day – for up to 8 hours per day (weather dependent).
This is distinctly different from the 'traditional' style kennel (a dedicated room, with a small yard attached – and maybe some supervised play).
If your dog is NOT social, then we may not be the boarding establishment for you. If you are unsure (due to Covid or other circumstances) about the sociability of your dog, we are happy to assess them and provide a supervised introduction to the world of doggy etiquette.
What do we mean by mixing dogs?
We have 40+ yards at our disposal. Each yard can have between 2 to 8 dogs in them (depending on the season and cohort of hounds with us). Dogs are assessed, and then mixed with other pals based on a number of important factors, namely:
Age: pups, teens, adults, geriatrics
Size/Weight: toy, small, medium, large, x-large
Breed
Agility & Ability: runners, snoozers, ballplayers, tug-o-war heroes, etc
Temperament: chatty, cuddly, loner, social, human-focused, etc
Yard type: see our grounds info below
Desexed Only
Due to our operational style, hormones simply create havoc in our yards. Therefore we have a very strict (non-negotiable) policy that all guests must be desexed by 9 months of age. Read more here.
Vaccinated Only
Boarding Kennel Regulations stipulate that all dogs must be vaccinated to board or play. Vaccination Info.
Collars Please
All dogs who stay or play with us must wear a suitable collar. If you don't provide one, we will, for $20.
We tag each guest with a name and unique number and these are attached to the collar.
Why? Well, picture six fat black labs or ten fluffy Maltese Shitzu's, with no identification, and, well, you get the picture!
If a collar is fitted correctly, then two human fingers will fit nicely between the collar and neck. We like sturdy plastic clips. No metal buckles, chains, leather or studs. Please.
NEW Dogs
New Dogs cannot stay during our peak times. We take our responsibilities very seriously when it comes to hosting new dogs. While our policy can be inconvenient to humans, our main priority is the dog – we aim to support its health, well-being and happiness with a four-full-day introduction board. Read more here.
Personal Items
We are a neutral territory (think Switzerland) – all items are SHARED. We prefer to spend time focussing on our guests rather than on insentient objects.
An item of your clothing, that you don't want back, can be a comfort to some dogs.
Please read more about personal items here.
Our Grounds
Yes, our property is pretty, but oh so practical.
With various yards at our disposal (spacious, circular, escape-proof, high-fenced, lower-fenced, small, grassed, sanded, concreted, etc), we can choose yards to best suit the various dog-onalities staying with us.
All yards have water troughs, sprinklers, beds, toys, shade & shelter.
There is super-careful planning and considerations underpinning the play-mate matching. Mixing dogs is a constant and evolving task, the yards (play-mates) are continually monitored, and adjusted, as dogs are checked in and out. Balls are tossed, waters refilled and tug-o-wars happen as staff watch over our guests.
NEW dogs are allowed to absorb our atmosphere in their own yard for a short period before we introduce them to a pal, or two.
Our kennels (sleeping quarters)
We have a variety of sleeping quarters for dogs. Traditional style rooms for medium to large dogs, and comfy giant crates for small breeds. Temperatures can be adjusted using evaporative coolers, reverse-cycle air conditioners, fans, under-floor heating, blankets and jackets.
Kennels are cleaned and disinfected daily.
Dogs are allocated a single room/kennel. Dogs from the same family are able to sleep in the same room, as long as the owner provides permission. Feeding of family pets is always supervised.
Puppies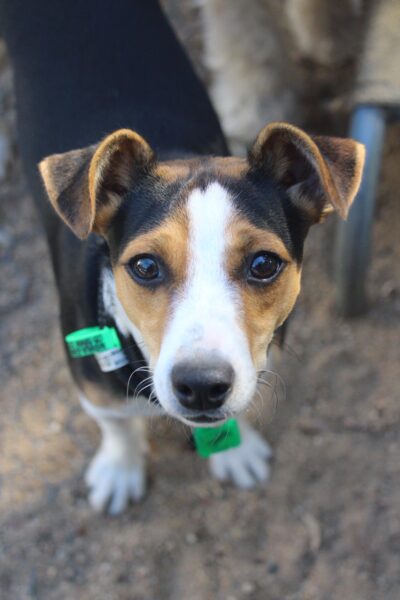 Puppies must be:
older than 14 weeks of age for daycare
and older than 16 weeks for boarding.
vaccinated in a timely manner, and wait 12 days from their latest C5 before being allowed onto our grounds.
monitored/supervised closely by the purple people
given a rest period during the day.
given breakfast if boarding (paid).
mixed with other puppies, or calm dogs (ones who don't mind a bit of scruffing).
desexed by the age of 9 months (no matter the breed).
Rules in our booking system will block bookings if your teen is over 9 months of age and not yet desexed (see our fixed-only policy).
Food & Feeding
We ALWAYS feed dogs in their own rooms, separately &/or individually – indeed, we never allow free-range pack dinners – this would be fraught with all manner of difficulties.
Evening Meal
The evening meal is included with the price of the board.
Breakfast
Unless it is a pup, then breakfast is a paid extra. @$5/day.
The menu
Dogs enjoy a selection of premium-quality Royal Canin dry food (breed, age &/or need specific), BlackHawk Grain Free kibble, Prime100 rolls (made with human-grade ingredients) & Hazeldene's Fresh chicken wings & fillets.
You are welcome to bring your own food, but there is no difference in price.
When should breakfast be added?
All pups under 9 months of age must have breakfast (and this is auto-added and auto-calculated in our booking system).

Active breeds should choose to add breakfast.

Dogs requiring food with morning medications must choose breakfast.
Breakfast size
To avoid GVD (gastric issues) breakfasts are small in portion size and therefore manageable for the digestive tract.
Optional extras
Optional 'spoil-em' items are available, for example, home-cooked Warm Chicken Dinners, Bacon-n-Eggs (Breakfast), Kongs, and licky-mats.
If choosing 'spoil-em' options, please ensure that your pet has consumed these kinds of food at home in the past (eg. eggs, peanut butter, creamed cheese).
Weight droppers
If guests drop weight during their stay, we auto-add a breakfast to counterbalance the calorie imbalance.

If you have an active dog, we suggest that you add breakfast at the time of booking.

Kongs, licky mats and lunch dates (added extras) are a great way to consume extra calories and rest the body.
Bringing your own food
You are welcome to provide your own food (eg your pet has special dietary requirements). However, there is no reduction in boarding fees.

'Own food' should be portioned and clearly named (small solid eskies are excellent for storage).

Please remember that energy 'in' must equal energy 'out'. The majority of our guests expend more calories when with us than at home.

Breakfast must be 1/4 of the daily allowance, with 3/4 served in the evening.
Sensitive Tummies, Allergies & Nervous Poops
If your pet is prone to a sensitive stomach, we are happy to discuss a slow switch from your food to ours.

All of our dry food contains chicken or traces of chicken. If your dog has chicken allergies we ask that you bring your own food to ensure that your dog doesn't suffer from an upset tummy.

If your hound suffers from 'nervous poops' we suggest adding probiotics to their meals during the 3 days leading up to their vacay (and leaving us some for their first few days with us). Of course, a chat with your vet about this would be beneficial.
Cuisine Low-Down
---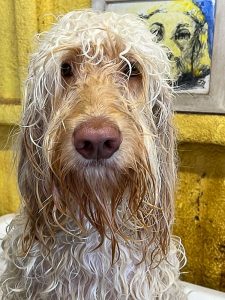 Prices
Boarding rates can be found here.
Prices are fluid, to keep in line with rising costs,
For the full nitty-gritty visit Pricing and Refunds.
---
They smell nice like that…
All of our canine boarders receive a complimentary hydro bath before going home – spritzed, bowed & tail wagging.
---
Do we accept all dogs?
We do not discriminate against breeds. However, we know, from past experiences, that specific breeds can find our play environment over-stimulating. This has, on rare occasions, provided the trigger for poor and/or dangerous behaviour. This is not safe for our guests or staff. Breeds include:

Bull Terriers – Shiba Anus – American Pitt Bull Terriers – Rottweilers – Dog Argentino (Mastiff) – Dobermans – Akitas – Gull Dong – Perro de Presa Canario – Tosa Inus – Chow Chow – Shepherds – Cane Corso – Staffies – Heelers (Red n Blue) – Wolfhounds – Staghounds – Ridgebacks – French Bulldogs – Bulldogs – Maremmas – Huskies – Malamutes – Bernese Mountain Dogs – Boxers – Great Dane – Mastiffs

For some of the above breeds, we will carefully consider your request for boarding but cannot guarantee a bed. Often rates are higher to compensate for the extra diligence required to monitor these breeds. We also limit the number of certain breeds during our peak times.