Mix-n-Match, NBKC Style
Nathalia Boarding Kennels and Cattery operate very differently from most other kennels, in fact, we are one of the first boarding establishments in Australia to run an 'open plan socialisation' style kennel.
'Open plan socialisation' means that we mix our dogs to play during the day – for up to 8-hours per day (weather dependent).
This is distinctly different to the 'traditional' style kennel (a dedicated room, with a small yard attached – and maybe some supervised play).
If your dog is NOT social, then we may not be the boarding establishment for you. If you are unsure (due to Covid or other circumstances) about the sociability of your dog, we are happy to assess them and provide a supervised introduction to the world of doggy etiquette.
What do we mean by mixing dogs?
We have 35+ yards at our disposal. Each yard can have between 2 to 8 dogs in them (depending on the season and cohort of hounds with us). Dogs are assessed, then mixed with other pals based on a number of important factors, namely:
Age (eg. pups, teens, adults, geriatrics)
Size (eg toy, small, medium, large etc)
Breed
Agility & Ability (Runners, snoozers, ballplayers, tug-o-war heroes etc)
Temperament – (chatty, cuddly, loners, social, human-focused)
Yard type (see below)
Our Grounds
Yes, our property is pretty, but oh so practical.
With a variety of yards at our disposal (spacious, circular, escape-proof, high fenced, lower-fenced, small, grassed, sanded, concreted etc) we can pick and choose yards to best suit the various dog-onalities staying with us.
All yards have water troughs, sprinklers, beds, toys, shade & shelter.
There is super-careful planning and considerations underpinning the play-mate matching. Mixing dogs is a constant and evolving task, the yards (play-mates) are continually monitored, and adjusted, as dogs are checked in and out. Balls are tossed, waters refilled and tug-o-wars happen as staff watch over our guests.
NEW dogs are allowed to absorb our atmosphere in their own yard for a short period before we introduce them to a pal, or two.
Rules
Because of our groovy style, there are certain limitations and rules to help keep our grounds safe and social for all.
Rule
Explanation
De-sexed or 'Fixed' only
~ One of the reasons we are so successful at mixing and matching dogs is because we (deliberately) remove hormones from the equation.
~ This means that all adult dogs who board or play with us must be desexed. (Pups between 14 weeks and the age of 8 or 9 months of age – and some geriatrics – are fine).
~ You can read more about this policy here.
Peak Boarding Periods
Christmas, New Year, Easter, school holidays and long weekends.
~ NBKC has a permit to host 150 dogs and we reach capacity at peak times.
~ With 600 paws on our ground, it is ABSOLUTELY CRITICAL that we KNOW every single one of our guests during peak times.
~ Therefore, if you want to book for these periods then a pre-stay or pre-play is mandatory.
~ This is so we can plan playgroups and know what to look for in the body language of each dog staying with us.
~ Of course, it is far less stressful on the dog as well, as they are familiar with us and our quirky routines.
~ Read more here.
Helicopter tails abound!
---
Regulations
AKA… The boring stuff…
We adhere to the Code of Practice for Boarding Kennels in Victoria. This includes, but is not limited to, the following:
Regulation
Explanation
C5 Vaccination
All dogs (& pups), for whatever visiting purpose, must have up-to-date vaccinations (opens on new page)
The validated proof is stored on your online account.
Age – Boarding
Dogs must be over 16 weeks of age
Age – Daycare
Pups must be 14 weeks+
Kennels – Sleeping
Each dog has their own room (where they eat and sleep). Family members may sleep together (if pet-parents allow).
Kennels – Cleaning
Kennels are cleaned daily and are dry and daisy fresh by day's end.
Kennel – Features
NBKC has an assortment of kennel styles that are comfy whatever the weather. For example, concrete floor heating, demister systems, roller doors, fans, evaporative-coolers, reverse cycle air-conditioners, blankets, coats (all sizes), Snooza beds, soft beds and water bowls.
Agreements
Prior to boarding, you must electronically acknowledge the NBKC agreement/s. Just so that we are on the same paw-fect page.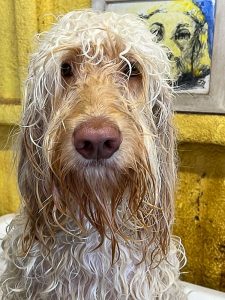 ---
Prices
Boarding rates can be found here.
Prices are fluid, to keep in line with rising costs and may change without notice.
For the full nitty-gritty visit Pricing and Refunds.
---
They smell nice like that…
All of our canine boarders receive a complimentary hydro bath before going home – spritzed, bowed & tail wagging.