Professional Grooming Service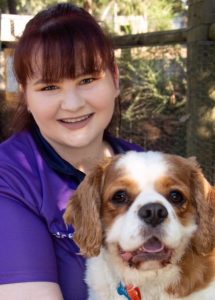 Meet our Groomer Chelsea (with her pooch Jasper). Chelsea enjoys dog grooming for us on Mondays and Tuesdays.
Chelsea gained her grooming qualification at Dog Diversity in Melbourne (Feb 2020) – this involved a full month of intensive, extensive & professional training.
Grooms are booked online where you can provide the necessary information/instructions about your grooming requirements. (A picture is also handy for Chelsea if you have a specific groom in mind). Chelsea will call to discuss or clarify instructions (if necessary).
Grooming requests can be 'standalone' (ie. dogs dropped in for the groom) or booked as part of Boarding or Daycare.
NBKC choose premium quality shampoo & conditioners for grooming sessions. The products smell lovely and linger for a long time. Of course, if your dog has allergies, we will be guided by you as to the best product for their care (some customers choose to byo).
GROOMING services (involving scissors and blades) are available Monday & Tuesday. BATH options (involving shampoos and conditioners) are available on any day of the week (during opening hours).
ALL dogs, entering our premises for any purpose MUST be fully vaccinated.

Code of Practice for the Operation of Boarding Establishments
We suggest booking three or four weeks in advance to ensure that you can lock in an appointment. A 50% deposit is required at the time of booking.
---
Prices
The prices below are a guideline only, time taken for each session can be affected by the behaviour of the 'canine-client' and the condition of their coat.
---
Dog Grooming Sessions
Session Name
Pawfect for….
Prices From
Tailored Groom
Pure-bred pooches:
Pre-shape, Shampoo, Condition, Blow Dry, Brush Out, Comb Through, Nail Trim, Ear Clean & Full Shape.
Small $70
Med $80
Large $90
X-L $100
De-Shed Session*
Thick-haired pooches:
Shampoo, Condition, Blow Dry, Brush Out, Comb Through (DE-SHED), Nail Trim & Ear Clean
Small $50
Med $70
Large $90
X-L $100
Neaten Session
The 'in-between' groom:
Shampoo, Condition, Towel Dry, Blow dry, Brush Out, Comb Through, Nail Trim, Ear Clean, Trim of Face, Feet & Bottom.
Small $55
Med $65
Large+$80
Please note that a De-Shed for certain thick-haired breeds (eg. Border Collies & German Shepherds) will take longer and thus cost more.
---
Bath Sessions
Whilst full dog grooming is available only on certain days of the week, we still offer bath options (hydro baths involving various products and or drying options) on most other days. Prices for baths are very reasonable and based on the size (weight) of the dog and the length of their hair.
For current prices, please log onto your Propet account and explore the grooming options.
You can add an option from the 'tidy-up' sessions if you want a more luxurious pamper session.
The Tidy Up Sessions
Sometimes our four-legged pals need some particular attention on only one body part. You can select 'Tidy-Up' sessions for the following:
Bottom Area $10
Ears $10
Eyes $10
Nails $15
Nails & Pads $20
Whole Face $25
---
Boarders Bath
All boarding dogs receive a complimentary bath before bounding into the car to go home. Bless~
This bath is pretty basic but it includes a shampoo, Towel Dry, Blow Dry (if allowable by the dog) an ear clean and face wash. Collars are wiped clean and a bow added. A final dog-cologne spritz makes for a delicious smelling canine.
---
Pensioner Discount
We love our local pensioners and provide a 10% discount on all grooms (excludes 'Just-a-Trim' options). And, for us to apply the relevant discount, we just need to see your card. Done!
---
For our customers who knew our long-time resident groomer Helen McKeown of Lickety Clips – Helen passed away in Feb 2019. We miss her dearly.