Doggy Day School
Wednesdays and Thursdays.
Dogs who attend our Doggy Day Out or Doggy Day Care programs (daycare for dogs) can take advantage of the following training programs.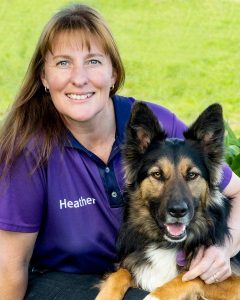 In place of traditional 'classes', we offer a combo of day-care and personal training with our qualified trainer. This is topped off with a one-hour handover session with the owner at the end of the program.
Some instructional YouTube clips and written reports help owners to practice commands at home.
Daycare dogs receive 30 minutes of one-on-one intensive training during their weekly visit. For the remainder of their play day, they socialise and frolic with carefully selected canine buddies. All under the watchful eyes of our staff.
We offer 3 types of training outlined below:
1. PupperGarten
Puppies under 6 months
Designed for puppies during their critical developmental learning periods.
Establishing foundations in obedience basics and good social skills around people and other dogs.
This course aims to assist in developing a well-socialized, confident young dog.
Training occurs on a leash, with low distractions, to ensure that your puppy has the best chance at successful learning.
sit ~ drop ~ social walk basics & leash pressure ~ recall ~ place command

PupperGarten skills focus.
---
2. Houndations
Dogs 6 months+
If your dog missed out on PupperGarten, don't fear, it is never too late to start learning!
This program establishes solid foundations in basic obedience and good social manners around people and other dogs.
Training occurs mostly on a leash or long line – with low to medium level distractions. This ensures that your dog has the optimal chance to experience success in learning.
sit ~ drop ~ social walk ~ recall on long line ~ place command

Houndation skills focus.
---
3. GradDog
For Houndation Graduates
This program focuses on increasing the performance reliability of the skills established during Houndations. Training concentrates on your dog performing with more distractions, holding drop, sit or place position for longer durations. Increasing recall reliability and loose leash social walking with distractions. Training takes place on and off-leash.
sit-stay ~ drop-stay ~ social walk ~ off-leash recall low distraction yard ~ place command

GradDog skills focus.
Communications
Of course, it is important that the humans play and practice with their dog/s at home. Weekly reports (via email or your Propet account) will explain the skills introduced to your dog and how to achieve them yourself. Reports will provide video links to the training techniques and some games.
The aim is to build skills one-by-one, week-by-week – dog dependent of course.
Naturally, our trainer is available if you need assistance.
---
Price
Remember: All classes are on a Wednesday or Thursday.
Customers pay for TWO components: Training + relevant Day Care.
Doggy Day Out (Shepparton & Echuca)

$370 Doggy-Day-Out Package.

Doggy Day Out (Nathalia)

$500 Training +
$200 Doggy Day Out
Total $700
Includes: transport to/from Nathalia, play + training.

Doggy Day Care

$500 Training +
$180 Doggy Day Care Package.
Total $680
Owners drop their dogs out to us and pick them up at the end of the day.
NBKC staff are happy to book the above for you, so feel free to call on 0458962000 – or shoot us a text and we will call you back.