Dog Daycare Nathalia Boarding Kennels & Cattery
Nathalia Boarding Kennels & Cattery offer two distinct daycare options for dogs.
Doggy Day Out, affectionately known as 'DDO'.
It doesn't matter if your dog is a high-energy soul, a moocher, or just in need of some play buddies, ultimately our daycare is a fab way to provide the stimulation, sensory delights and social interactions that they love.
We use the same mix-n-match policy for all dogs on our premises, be they BYO-Dog, Boarders or Doggy Day Out. In other words, we match our guests with others of similar size, age and temperament. See more on our doggo info page.
Of course, our vigilant kennel staff closely monitor our guests throughout the day.
BASIC RULES
To participate in daycare dogs must
be 14+ weeks old and
if over 8/9 months of age must be de-sexed
have Proof of vaccination – which is up-to-date
treated for flea and worms
Rules in our booking system will block dogs who do not fit our criteria.
---
BYO-Dog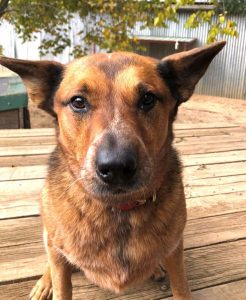 What is it?
Customers can drop their dog/s to us in the morning (fresh as a daisy) and pick them up at the end of the day (pleasantly tired).
Regular customers can even drop off or collect their pets before and/or after office hours. This is very useful for those who work long hours.
Price
Daycare packages help to keep your costs down.
ADULT DOGS: Prices (per day) range from $16 (with a package) to $25 (without a package).
PUPS: Under 8/9 months of age – prices range from $24 to $30 per day.

Note: All pups are closely monitored and have a 'rest' period during the day (in the office with the purple people).

Book a minimum of 5 daycare days for PUPS to receive a 20% discount.
---
Doggy Day Out
Doggy Day Out (DDO) is for pooches from Shepparton, Echuca/Kyabram, Numurkah/Wunghnu & Nathalia!
In a nutshell, we pick up dogs from a central location (see below) in the morning, bring them back to the kennels for a play, and then return them to their owners in the late afternoon. This service operates during the Victorian school terms (that is, NOT during school holidays).
Operation of our DDO service is weather dependent. If the weather is forecast to be too hot, or too wet, we will contact customers to cancel.
---
DDO – Price
| | | |
| --- | --- | --- |
| Town | Per Dog | Per Pup |
| Shepparton, Echuca/Kyabram, Numurkah & Wunghnu | $40 | $45 |
| Nathalia | $30 | $35 |
Per Day Rates
A 20% discount for a family of two or more is automatically provided when booking
Pups are monitored closely and have a rest period in the middle of the day (staff room)
PUP bookings attract a 20% discount if 5 or more days are added to one booking request.
Pre-Paid Packages make playdates cheaper.
Payment
Payment is required upfront and the process is explained during the booking process.
---
Towns & Times
| | | | |
| --- | --- | --- | --- |
| Town | Day | Pick-up | Drop |
| Echuca (Wyuna*) | Monday | 7.45 am | 5.30 pm |
| Shepparton | Tuesday | 7.00 am | 5.30 pm |
| Numurkah | Tuesday | 7.15 am | 5.30 pm |
| Wunghnu | Tuesday | 7.30 am | 5.15 pm |
| Echuca (Wyuna*) | Wednesday | 6.45 am | 5.30 pm |
| Shepparton | Thursday | 7.45 am | 5.30 pm |
| Nathalia | Any Week Day | TBA | TBA |
Times for DDO
*On our way to or from Echuca, we can stop at the Wyuna Rec Reserve to collect Kyabram doggies.
Meeting Points
Echuca – Apex Park – High Street
Wyuna – Recreation Reserve
Numurkah – Numurkah Veterinary Clinic (Frank's)
Wunghnu – Wunghnu Cafe / Post Office
Shepparton – John Riordan Oval (Princess Park) – west end of Nixon Street.
NATHALIA
We will collect & drop you from/to your house or yard (must be within the township of Nathalia) – call us to discuss 0458 962 000.
---
HOW TO BOOK
Single Daycare Dates
Create, or return to your Propet Account.
>Book Now
>Daycare (DDO & BYO-Dog)
>Select Pet
>Select Dates*
>etc.
*The day of week selected will filter the daycare services available to choose from.
Packages
>Book Now
>Packages
>Select the package that appeals to you the most
>Submit, and pay
>Book your Daycare (as above) and allocate the bookings to your package
If in doubt, shout out!
Limited Space
Acceptance of your booking will be dependent on the space available in the van.
Bookings must be made more than 12 hours in advance.
An email from us will confirm your booking (usually within 24 hours) or we will call to reschedule. 😊
Questions?
Don't hesitate to give us a call if you want to find out more!
0458 962 000