This page acts as an information guide to the Cattery side of our business, AND as a official Agreement (if you choose to board your feline with us). If you have any questions about the following, please reach out 0458962000.

NBKC Management
Age
Cats must be 3 months old to board with us.
---
Vaccination
Cats must have relevant & current vaccinations. We store these details on customer accounts.
---
De-sexed
All cats must be de-sexed to board with us.
---
Our Cattery
The Cattery is very close to the NBKC office so our feline friends can monitor the activity of the purple-people (aka staff).
At NBKC, cats are housed in rooms that provide various comforts including:
multiple levels (for fun, curiosity and variety)
a selection of sleeping areas (pods, plush bedding, hammocks or chairs)
cat scratch items
toys
small kennels (outside)
fresh water
clean litter and a
selection of foods
cuddles (if the cat allows)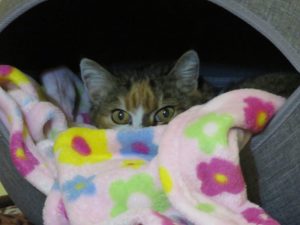 Tiled floors make cleaning & disinfecting a breeze and this task is completed on a daily basis.
We have a mix of indoor rooms only, and indoor/outdoor rooms (for those cats who like to soak up the fresh air). Outdoor access is via a small cat flap.
Temperature
Cats enjoy the comforts of an evaporative air-conditioner and fans during the summer – while heat pads keep them comfy during the winter months.
---
Food & Water
Type
Details
Dry
Our feline guests can graze (with your permission) on our premium Royal Canin kibble. The standard kibble is mixed with oral care kibble – for healthy mouths.
Aged and kitten options available, please discuss your needs.
Wet
We stock a variety of Fancy Feast flavors for breakfast. Geriatrics and kittens are fed wet food twice per day (or as instructed by you).
Own
You are welcomed to bring your own food (no discount for this) however, items must be clearly named, and a set of instructions provided to guide our staff.
Water
Fresh (rain) water, from clean receptacles, is available 24/7.
---
Security
All of our cat rooms (aside from two cat houses) have a double gate security system, so if a Houdini slips past a staff member, they will only find themselves in an enclosed breezeway area. Adventure over!
The Cattery is always padlocked at night.
Access to the Cattery is for NBKC STAFF only, and OWNERS (if invited to retrieve their cat when going home, or for settling-in purposes when they first arrive). We don't allow 'visitors' for security reasons. General viewing for tour purposes is allowable.
Dogs
Dogs are not allowed into the Cattery.
Families
Cats are never mixed together (unless they are from the same family and the owner provides permission).
---
Boarding Data Sheet
All cats, for their care and comfort, have a boarding data sheet printed for them when they first check in. Every day NBKC staff diligently record guests intake (food, water), output (waste products) and other important details.
Patterns are easily detected with this system.
Staff carefully monitor and discuss the boarding data sheets, and if deemed necessary will call owners to discuss or they may elect to administer things like Cat-lax, or feliway spray (for example).
---
Grooming
We can attempt to clip nails, or brush fur, however, the cat has to be comfortable enough for us to proceed. If not, we will desist.
---
Medications & Vet
Our experienced staff are happy to administer medications to cats with special needs. We ask for the following:
clear online instructions (via our Propetware booking system)
written instructions handed to us upon arrival – this can be cross checked with our online information, and then clipped to the boarding data sheet.
Medications are far more secure if provided in a (named) box that can be clipped shut.
Medications administered during office hours, do not attract a fee. However, if medications are time dependent and happen after hours, then a fee applies.
If we deem it necessary for your cat to see a vet, we will let you know (as best we can) and make a judgement call as to whether a local vet can deal with the matter, or refer to your personal vet for a consultation.
Feedback
A post-board email (which is very 'doggy' – sorry!) will hit your inbox after you return home. We encourage you to provide feedback as we find this a very useful tool for reflections and ongoing improvements.
The above information forms the Agreement that enables NBKC to host your cat. An 'electronic' signature is required, via your online account, to demonstrate your understanding of the above.

NBKC Management