Manager Position (Adele like) advertised 13/4/22 and closes 1/5/22: 5 Days/week Sunday to Thursday: 3 Month Probation: Award = Miscellaneous Award: Must be willing to work most holiday periods.

Vanessa, Fay, David and team NBKC
We are a happy and busy team at NBKC, and seeking to employ a manager (permanent & ongoing). This person must embrace our culture and continue to nurture NBKC's excellent reputation.
All staff that we employ are integral to our ongoing success. We consider them family.
Manager Position ~ Adele like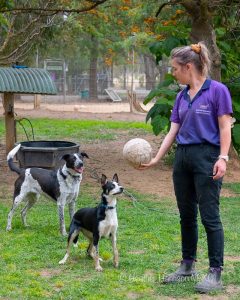 No, this doesn't mean that you have to sing like an angel, (although that would be a bonus), it simply means that you have these (rather large) shoes to fill:
Our ideal manager would be much like our current Adele, namely:
Enjoys working outdoors
Fit and healthy
Walks (runs) 20,000+ steps per day
Multi-tasker and problem solver
Revels in the dirty work
Thoroughly organised, and a clean freak
Thinks laterally about tasks, and supervises other workers to achieve deadlines.
Loves dogs and cats, wait, that should be at the top of the list!
Fantastic with animals (2nd on the list!)
Possesses amazing customer service skills
Handy with Insta stuff.
Grasps new computer programs quickly (eg. our booking system)
Fast to learn dogs' names along with their habits and personality
Able to problem solve on the run and think logistically
Maintains a sense of humour and gets along well with all staff
Happy to work on a Sunday
Happy to work during holiday seasons (after all, these are our busiest times)
And so much more…
We consider the following advantageous but not essential:
Manual drivers licence
Dog training qualifications (balanced approach preferred – you know, firm, positive and caring)
Any kind of Animal qualification
The successful applicant would be able to start as soon as possible, to absorb knowledge from Adele before she leaves us.
Not asking for much are we?
Are you interested?
Keep reading, cos, if you are interested in the Manager Position, this is what you MUST do:
Application Instructions
Research our website,

this gives you a fab insight into how we operate.
if offered a trial, we will ask you questions about our website!

Email your Resume

Your resume MUST be tailored to THIS particular job.
Include three referees and their phone numbers.

Email your Letter of Application

Explain why you want to work for us.
Explain why you would be the perfect fit.
Confirm that you will make yourself available for a 2 or 3 day trial (at Casual Rates).

Email your Resume and Letter of Application to info@nathaliaboardingkennels.com.au

Re: Management Position (Adele Like)
Attention: Vanessa, Fay & David

Questions about the position?

Email info@nathaliaboardingkennels.com.au or
send a text to 0458962000

and we will respond as soon as we can.
We understand that not everyone can be amazing authors like Jane Austen, Ken Follett or J K Rowling!! Just be sincere and highlight your skills – we understand. A great workaround for this is to ask for help, from someone who is handy at grammar, and such.
Interviews
NBKC prefers a 'Trial' to candidates (casual rates), rather than an 'Interview'
So if we like your written application, and your referees confirm that you are worth a shot, we will offer you a (sequential) two or three-day 'try'.
Therefore be mindful of this when applying for this position.
If you aren't successful, then your trial will still add some spice to your resume.
---
Common Mistakes
Unfortunately, or fortunately for you (depending on how you look at it), Fay (one of the owners) is an ex-career practitioner – and she knows her stuff about good and bad job applications.
Don't stress, she simply wants to make it easier for you by telling you about some of the common mistakes made by applicants in the past:
A friend, relative or mother called about the position.

We truly only want to hear from the applicant, please.

Only a small percentage actually followed the application instructions.

Remember: Following instructions is a great job skill.
You have a greater chance of getting a trial if you follow the application instructions.

Some applicants sent us an old (ancient!) Resume or Letter of Application.

Receiving an application for a hospitality position, confuses us, entirely.

Some letters were clearly pieced together by cutting and pasting from some fancy online resume – and then not readjusted to make sense. We can absolutely tell when this happens, so avoid this, please.
Responding to the Facebook Advert is NOT applying for the position.
'Yous' is not a word. Please don't use it in your correspondence.