Once-Upon-a-Time
Madeleine scowled. 'This is not good enough', she thought.
It was the late 1990's and Maddy had just picked up her beloved dogs from a kennel. It was obvious to Maddy that her two besties were not happy. This caused her heart to ache.
She scratched their ears affectionately and asked of them; 'Why don't they see you as social creatures, rather than locking you in solitary confinement?'
They looked at her (a little accusingly), with their sad, wise eyes, panting agreement.
Maddy is 'fixer' by nature. She never shirked a challenge. She made up her mind instantly (as she is want to do) to provide a cure for this particular problem.
This is why, with a steely glint of determination, Maddy took her first few steps on the journey to create her own boarding establishment.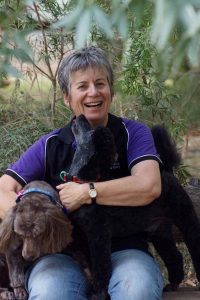 Maddy's vision? For dogs to mix and play together for most of the day. Plenty of fun, exercise and social interactions. A place of happiness. Not only that, she saw, in her mind's eye, how happy and grateful the customers would be.
Maddy dubbed her envisaged play system: 'Open Plan Socialisation'.
Location
Importantly, the first course of action was to find the perfect property. Maybe, it was the farmhouse and its surrounding machinery sheds that speaks loudly to Maddy of 'potential'.
To Maddy's discerning eye, this little gem was perfect for her new business. There is plenty of space (3 acres) – tick! The pretty Broken Creek runs nearby – tick! And, it is a mere 4 kms east of Nathalia. Perfection!
Maddy rolls up her sleeves, ready for the unknown challenges and obstacles that lay ahead.
Tentative Beginnings
After many negotiations and permits showing stamps of approval; Maddy launches her business (2000). This consists of two yards, a handful of boarders and the obligatory bottle of sparkly.
There is still hard and physical work ahead involving many long hours of labour.
Inimitable Maddy is up to the challenge. Ultimately, over a period of time, many trees take root and fences magically materialise.
The property blossoms into one of the prettiest in the Moira Shire.
The reputation of the kennels spreads like butter on hot, crunchy, toast.
Boarders begin to trickle in from Geelong, Melbourne, southern NSW (and every town in between).
After many years, there are 28 yards. Each yard receives a name – a name from a particular and regular four-legged friend.
Madeleine nods her approval at the excited hounds trotting into her office – and into her heart.
Numerous local teens entered the working world via the Kennels; all will recall, with great fondness, scooping poop and tussling with the water device (of the time) to clean the kennels.

Ode to all previous Poop Scoopers
Madeleine, mother-hen and mentor, scurries around ensuring her young charges do things to her exacting standards.

Jacinda
Jacinda was one such local teen.
Work experience (2005) turns into part-time work. Part-time work turns into a school-based traineeship.
In 2006, she is an award-winning regional trainee.
From 2007 onwards, Jacinda gains qualifications in 'Companion Animal Studies' and 'Grooming'.
Our highly experienced young lady is ready to accept the baton as manager & proprietor of Nathalia Boarding Kennels & Cattery (2011-2016).
Madeleine continues to guide and mentor, but takes a 'back seat' in the day-to-day physical tasks.
With Jacinda at the helm & wing-man Vanessa by her side, the Moira Shire recognises and rewards their outstanding customer service. The girls nail the '2015 Business Excellence Award' to the office wall, and grin with pleasure.
Vanessa
Vanessa begins Kennel life in a similar way to Jacinda – namely via working experience (2005).
Vanessa explores other options after school (eg. gap year in the Army). Ultimately, like a boomerang, she finds herself at her beloved kennels 'in-between times'.
Vanessa's 'social media savvy' is an asset to the business.
Relinquishing
Madeleine comes to the conclusion that it is time to relinquish the reigns. This occurs in 2016.
Maddy offers her two best girls the opportunity to purchase the business from her.
Jacinda, after much thought, declines the offer. Vanessa, with support from her parents, jumps at the chance.
In October 2016 the Scadden trio lease Maddy's business. The purchase of the business occurs in April 2017.
Maddy, easing into 'retirement' continues to drive (pet taxi) and mentor, as the Scadden's settle into the business.
There is no clear or defining day upon which Maddy can hang her retirement hat. 'Driving duties' cease at the end of 2018. Her 'mentoring role' is ongoing.
Scadden Family – Keeping the Beat
To this day, Vanessa, Fay & David maintain Maddy's 'open plan socialisation' vision, where dogs socialise and play together in a safe, happy, stimulating and sensory environment.
Today
Today, Madeleine confidently waves goodbye as her current four-legged pals bound into the van for a play-date at Nathalia Boarding Kennels & Cattery.
Madeleine smiles. 'This is perfect!'
Cedric
Or, our Factotum… 'the man who does everything'.
Every day for 13 years, rain, hail or shine, you would find Cedric washing dog and cat bowls in the Kennel kitchen.
A true-blue supporter of the business, he always took a genuine interest in the lives of the employees. Taciturn teenagers found themselves engaging in lively conversations with him. He developed a wonderful rapport with all.
Our Factotum started volunteering at the kennels in 2005 (the same year as Jacinda & Vanessa) and departed in 2017. Jacinda and he 'retired' in the same year.
Jacinda started a new chapter and our 'nish-nosher' (aka dishwasher) concluded his story.
RIP Cedric – we miss your booming voice.
---
Current Staff
Full-time: Heather Harrison, Adele Mapletoft, Chelsea Hicks, Ashley Keir, Emily Tymensen, Haley Knight, Dani Guthrie, Jacinta Scadden (photography & online).
School Based Apprentice: Kane Stray
Casual / Part-time: Ned Bramwell.
Adhoc Photographer/Driver: Rachel Scadden
---
Past Workers
Our Kennels would not be as amazing as it is today without the contributions from past workers.
Caitlin Evans, Amelia Vaughan, Abbey Bell, Jemma Bell, Mia Bell, Emily Bright, Teagan Peterson, Abbey Cleeland, Michelle Temme, Cadisyn Villani, Helen McKeown – Groomer Extraordinaire (RIP), Cassie Brooks, Josh Gemmill, Jade Philips, Laura Harvey-Hawkins, Chantal Germon, Jake Hindmarsh, Clancy Congues, Helena Bakogianis, Evelyn Scott, Lyn Mitchell, Kellie Begley, Cheryl, Rebecca Ford, Dana Ford, Jenny Trotter, Kelsey Walker, Denise & Nathan Butler, Paul & Alison Maloney, Holly & Michaela Cottingham, Xav & Grant Bell, Di Gemmill, Daniel Keil, Imogen Dixon, Stormy Guthrie, Leah Bridges, Emma (Flo) Rendell, Clinton, Elvie & Stuart Barnes, Daisy Ing, Kirah Turri, Ashley Henze, Ann Mooney, Monty Keil (meet and greet boy for 13 of his 15 years), Camilla Wilson, Stacey & Tanya Fitzgibbon & Harrison Hawks.
If you worked for us and your name is not on this list – please let us know!