Professional Grooming
Meet our Groomer Chelsea (with her pooch Jasper). Chelsea studied for her grooming qualification at Dog Diversity in Melbourne – this involved a full month of intensive, extensive & professional training.
We choose to use premium quality shampoo & conditioners during the following sessions. The products smell lovely, and linger for a long time. Of course, if your dog has allergies, we will be guided by you as to the best product for the care of your pet (some customers bring their own).
Availability
Grooming services are available Monday, Tuesday & Friday (subject to Chelsea's availability). Bathing options are available on any day of the week (during our opening hours).
The Groomin' Sessions
---


Please note that a De-Shed for a Border Collie or German Shepherd will cost more as they take a long time to de-shed correctly.

---
The following are our Pamper sessions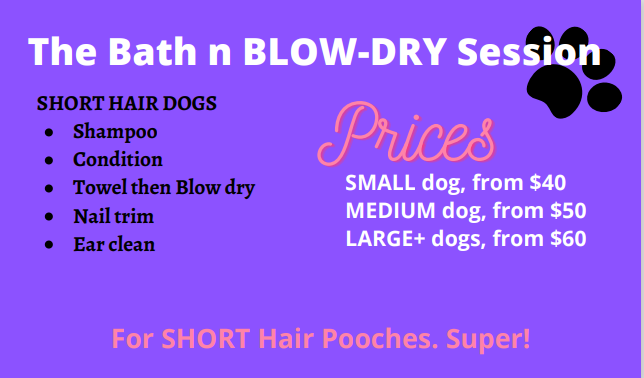 Please note that, depending on the type of hair, and also during colder months, we may recommend the Blow-Dry session over the Towel-Dry. This is for health reasons.
---
Just a trim?
Sometimes our fur-legged pals only need attention on the one body part!
Our 'Just-a-Trim' Sessions include:
Bottom Area $7.50
Ears $7.50
Eyes $7.50
Nails $7.50
Nails & Pads $20
Whole Face $20
---
Daycare Specials
Our Doggy Day Care and Doggy Day Out Dogs have a couple of bathing specials available to them when they book online.
---
Pensioner Discount
We love our local pensioners and provide a 10% discount on all grooms (excludes 'Just-a-Trim' options). And, for us to apply the relevant discount, we just need to see your card. Done!
---
For our customers who knew our long-time resident groomer Helen McKeown of Lickety Clips – Helen passed away in Feb 2019.  We miss her dearly.