By reading this page, you are acknowledging your understanding of our system for HIGH VOLUME Boarding Payments. In-fact, this page forms part of your boarding agreement with us.

Management NBKC
---
PEAK vs HIGH VOLUME
When are Peak Periods?
Peak Periods are during school holidays (Victorian) & some Public Holidays. During these times you will pay a higher daily boarding rate for your pet.
Normal payment protocols apply to Peak Periods, however, a cancellation fee of $50 will apply if you cancel within 2 days of check-in.
What are High Volume Periods?
High-volume periods are the times when we hit 'capacity' and our juggling skills are put into action to maintain the professional ebb-n-flow of our establishment. Therefore your boarding payments are treated differently.
High volume periods occur during Christmas, Easter and some Public Holiday Weekends. Again, you will pay a higher daily boarding rate for your pet (same as Peak times).
So keep in mind, as you are reading, that this policy refers to the following times:
Christmas & New Year – 23rd Dec to 4 Jan
Easter – Friday, Saturday, Sunday & Monday
Long weekends – usually Friday to Monday
Remember, during other Peak Periods (eg. School Holidays) we follow normal protocols for booking and paying.
---
High-Volume Periods – Payments & Times
Why do we have a different payment system for High-Volume Periods?
Planning processes for your pet begin as soon as we accept your booking request. And, we cycle through a myriad of tasks every day in the lead up to holiday times. Basically, we are prepping for a maximum woof (and meow) invasion. And, the closer we get to holidays, the faster we pedal. This is part of what we do:
monitor boarding numbers
stock-take & order food (based on breed of pets)
check equipment
organise staff rosters (based on number of pets)
process deposits and balances
organise yards (eg. who will play with who)
When we hit 'capacity' (normally 4 or 5 months out) we are turning away other customers, or, adding them to our wait list.
Understandably 'waiters' are proactive and look to make alternate plans as soon as they can, this means that our 'wait' list is quite depleted by the time the holidays arrive.
Choose Dates Carefully for High-Volume Periods
Please select your boarding dates carefully when you initially book for high volume times, because once we are 4 weeks out from the holiday (and you have paid the balance), you cannot shorten the booking.
For example: if you book from the 23rd to the 29th December, and you change your mind and want to pick up earlier on the 27th, then you must pay for ALL days.
To clarify, you can physically pick up your pets a day or two earlier, but you must pay for the dates initially booked.
You can lengthen your stay – only if we have the space.
Any gazetted public holiday included in your 'shortened' booking is non-refundable. For example, if you book for ALL Easter Days (Friday to Monday) and you change your mind and pick up on the Sunday, you will still pay for the Monday.
---
New Customers
Unashamedly, we gear this policy towards our FREQUENT boarders, as they are our bread and butter. So, if you are a NEW (one-time only) customer, be aware! Indeed, you will be out of pocket if you make, then subsequently cancel, your booking.
---
Christmas, New Year & Easter
Christmas & New Year Notes
Our office is closed to customers on:
Christmas Eve, Christmas Day, Boxing Day,

Minimum Booking: 23 to 27 Dec (5 days)

New Years Eve & New Years Day.

Minimum Booking: 30 Dec to 2 Jan (4 days)
In rare circumstances we accept arrivals and/or departures during the days that our office is closed, however, to be fair to other guests (those on the wait list) ALL dates are inclusive and must be paid for.
Easter Notes
While our office is open during Easter, and we are a little more flexible with in's and out's, we find that the majority of check-in's occur on the Friday, and check-outs Monday. This means that the Saturday and Sunday is usually fully booked. The cancellation policy described below will apply.
---
Boarding Payments – METHOD
Credit Card
You MUST store your credit card details (securely encrypted of course) on your online account with us nathalia.propetware.com.
And, you understand, and agree, that we process deposits & balances from this card for the peak period boarding payments.

NBKC Management
---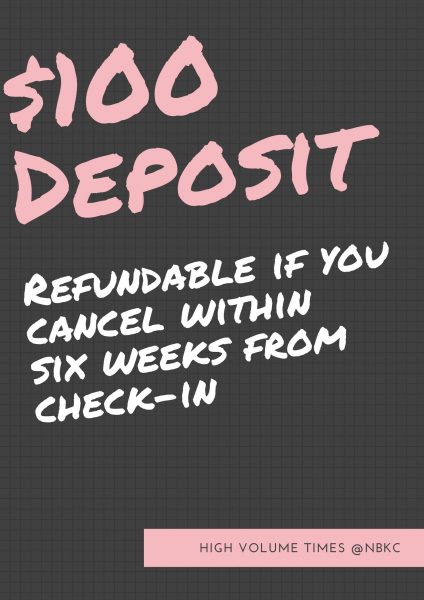 Boarding Payments – PROCESSING
Here is how our deposit /balance/ cancellation/ credit system works: 
$100 Deposit
At the time that you make your peak-period booking, we ask for a $100 deposit. Or, payment in full if your booking is less than $100.
The deposit is fully refundable if you cancel 42 days (6 weeks) from your check-in date.
If you cancel between 6 to 4 weeks from check-in, your deposit becomes a CREDIT on your account.
You can use this CREDIT in the future for any of our services.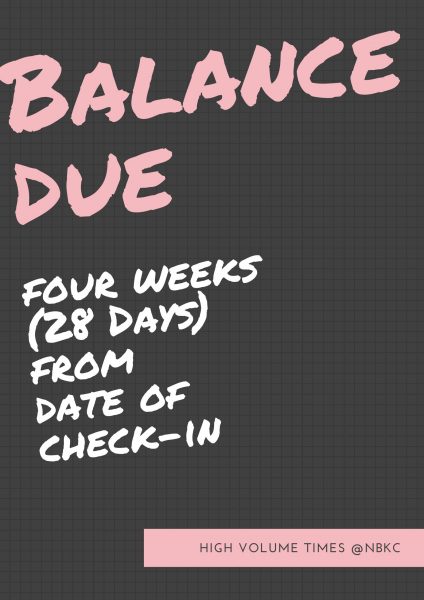 Balance of Boarding Payments
The Balance of your invoice is due 4 weeks (28 days) from date of check-in.
We will send you a reminder email and process the money from your credit card.
You now have a deposit and a balance that make up the entire payment.
Go you!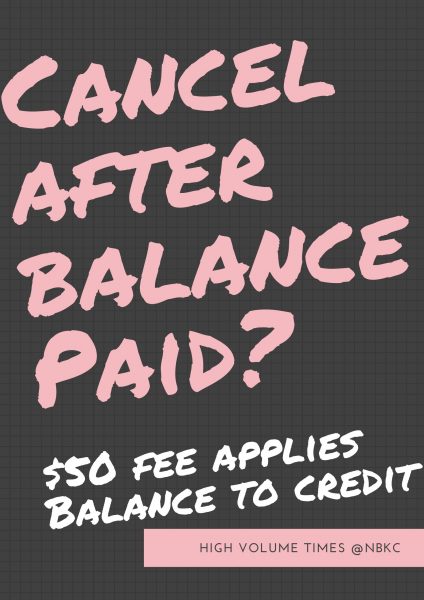 Cancelling & Boarding Payments?
What happens if you cancel after paying the balance?
If you cancel 27 to 4 days prior to check-in – we will process a $50 cancellation fee and apply the remainder as a credit to your account for future use.
If you cancel 3 to 1 days prior to check-in, no discounts or credits are provided.
We understand that curve balls are a vexatious part of life. Therefore, we will take cancellations on a case-by-case basis.
Credits
It is important to note that credits are NOT transferable to other accounts. For example, you can't 'gift' it to your Aunt, best friend, neighbor or indeed your uncle's niece. This is because our booking system simply does not work in this way.
---
Wrap-Up
Thanks for reading to the end. Go you!
We hope that our peak-period / high-volume boarding payments Policy is clear and simple to follow and that you are wiser for the experience.
We are happy to answer all manner of questions. However, our fab Kennel staff are not in a position to alter the payment policy. Please ask to speak with an owner if you want to discuss your concerns.
Our number is: 0458 962 000.
To acknowledge your understanding of our payment system for Peak Periods, return to your booking and check the agreement box.

NBKC Management